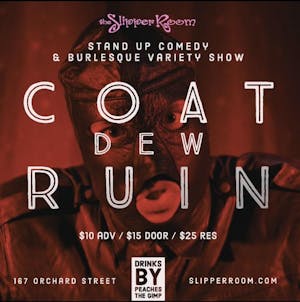 Coat Dew Ruin
Peaches the Gimp, Cassandra Rosebeetle, Evil Hate Monkey, Pinkie Special, Todd Barry
$10.00 - $25.00
Tickets At The Door
Stand-Up Comedy Meets the Best of Burlesque & Variety
For over 20 years, the Slipper Room has played host to the best of New York's burlesque & variety, as well as being an alt-comedy mainstay for up-and-comers and headliners alike, but the two have not shared the stage until now.
Coat Dew Ruin blends the greatest stand-up comedy the city has to offer with what the Slipper Room does best: a weird, naked good time.
Curated by Peter Smith and Nick Radogna.
With guests
Cassandra Rosebeetle
Evil Hate Monkey
Pinkie Special
Todd Barry
Joe Rumrill
Spike Einbinder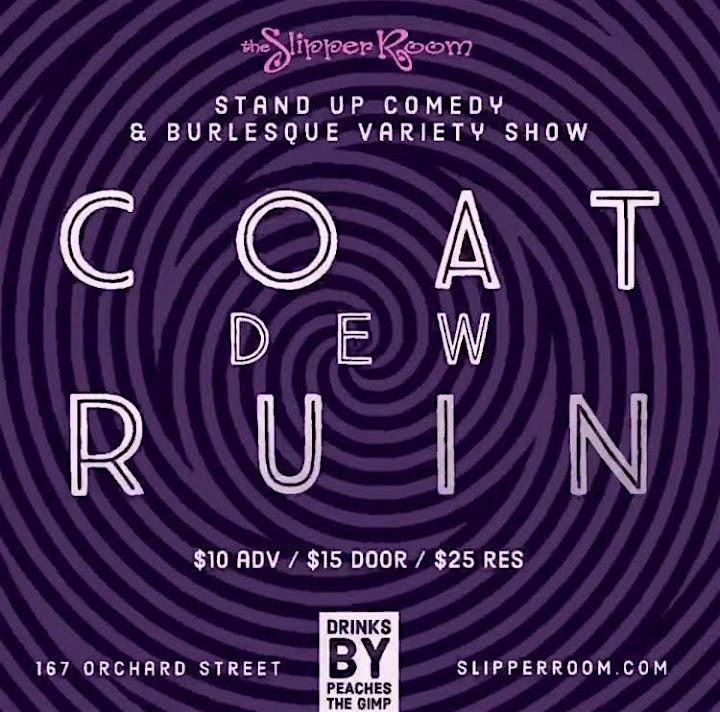 Venue Information:
The Slipper Room
167 Orchard Street
New York, NY, 10002