Fashion Puh-leeze
$12.00 - $30.00
This event has been moved to May 21.
Comedy meets the Catwalk at the Slipper Room
Self proclaimed sartorialists (on a budget) and comedians Anna Roisman (HQ Words, JFL) and Maya Deshmukh (AZN Pop!) invite their comedian friends and fashion experts to discuss everyday lewks, seasonal trends, and award show styles viewed very far away from the red carpet.
With comedy sets woven through catwalks in different looks, Instagram inspirations, and a panel of opinionated critics, Anna and Maya are your new best friends who bring fashion and comedy together in one hot show. Get ready for a night of SEX without the sex part! Come dressed to impress babe, because it's time to look fly AF!! It's 2020!
The Line-Up:
Comedian:
Alison Leiby (Writer, The Marvelous Mrs. Maisel)
Benito Skinner
Panel:
Carmen Christopher (High Maintenance, Shrill)
Milly Tamarez (NPR, Buzzfeed)
Jenny Gorelick (Late Night with Seth Meyers)
Hosted By Maya Deshmukh (AzN Pop, High Maintenance) and Anna Roisman (HQ Words)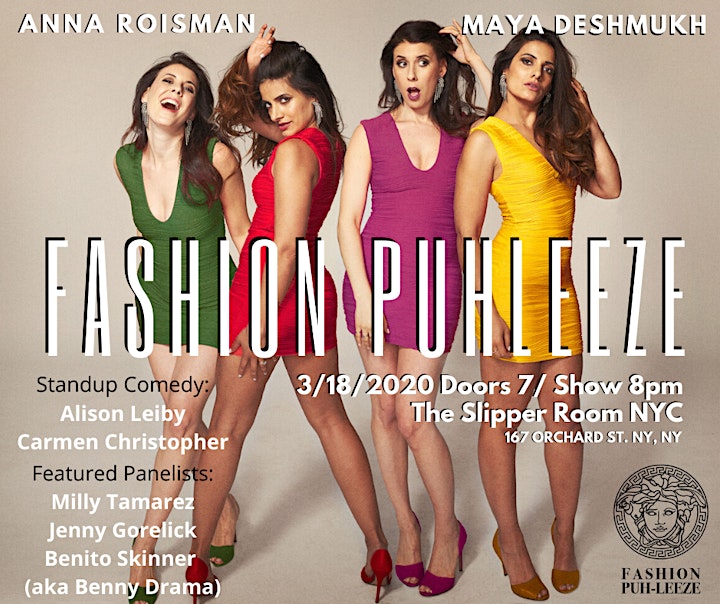 Venue Information:
The Slipper Room
167 Orchard Street
New York, NY, 10002