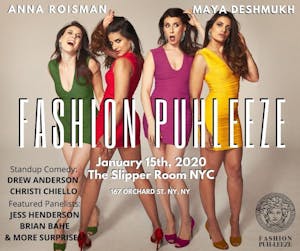 Fashion Puhleeze
Anna Roisman, Maya Deshmukh, Christi Chiello, Drew Anderson, Jess Henderson
$12.00 - $30.00
Tickets At The Door
Anna Roisman and Maya Deshmukh return to the Slipper Room
Self proclaimed sartorialists (on a budget) and comedians Anna Roisman (HQ Words) and Maya Deshmukh (AZN Pop!) invite their comedian friends and fashion experts to discuss everyday lewks, seasonal trends, and award show styles viewed very far away from the red carpet.
With comedy sets woven through catwalks in different looks, Instagram inspirations, and a panel of opinionated critics, Anna and Maya are your new best friends who bring fashion and comedy together in one hot show. Get ready for a night of SEX without the sex part! Come dressed to impress babe, because it's time to look fly AF!! It's 2020!
Comedians:
Christi Chiello (Comedy Central, Chris Gethard Presents)
Drew Anderson (STEVIE, NPR)
Comedian Panelists:
Jess Henderson (UCB, Growing Down Series)
Brian Bahe (Vulture, Butt Dream)
Anna Roisman is a comedian, writer, actor, and host in NYC. Anna is the host of HQ Words, on the HQ Trivia app. Anna's work has been featured in the Tribeca Film Festival, New York TV Festival, Just For Laughs in Montreal, People Magazine, LA Times, Funny Or Die, Huffington Post, and more. She is the creator of the new podcast 'Unemployed with Anna Roisman' a spin off from her live show, 'The Unemployed Show.' Anna also created & cohosts Quickie Fest: The One Minute Movie Festival in NYC. Anna also sings with The Losers Lounge at Joe's Pub & City Winery. For reels, press, and information, check out www.AnnaRoisman.com.
Maya Deshmukh is an actor and comedian in NYC. Hailing from the great state of New Jersey, she is very happy to no longer be bridge and tunnel. Maya won first place in the NBC/UCB diversity showcase doing characters. She can be seen at UCB Hells Kitchen performing on Maude night with her sketch team Fantasy as well as her K-Pop parody group, AzN PoP, where she plays "Brown Rice". Maya has been featured on High Maintenance, Elite Daily, Nick Mom and Funny or Die, among others. When she is not doing comedy, working, or catching up on Real Housewives (of all cities), she is probably getting yelled at. Maya also works part-time as a general dentist (not a joke).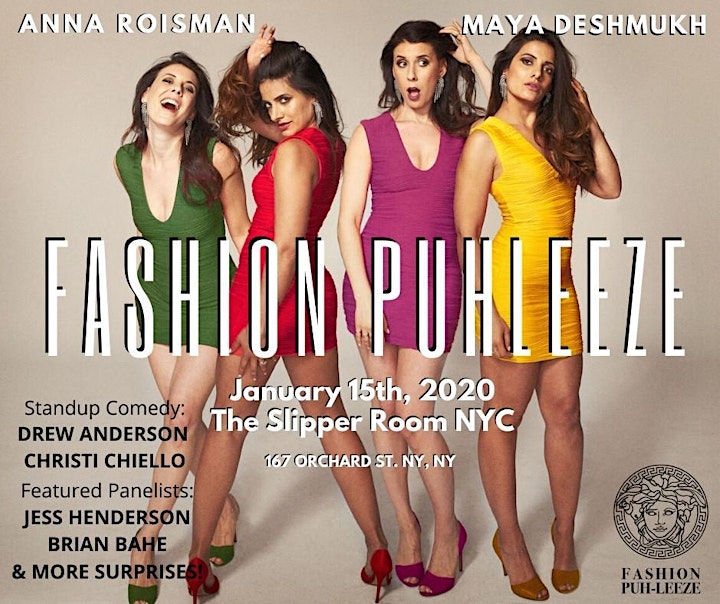 Venue Information:
The Slipper Room
167 Orchard Street
New York, NY, 10002