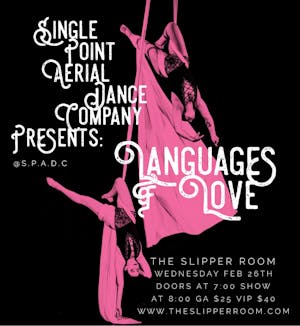 Single Point Aerial Dance Company proudly presents: Languages of Love
What is your love language: Words, Touch, Gifts, Time, or Service?
Single Point Aerial Dance Company invites you to catch a brief glimpse into our languages. This Aerial Acrobatic show will delight the senses as we dance, flip and dive through the air. Our Aerial Beauties will express their love on Wednesday, February 26th, with performances by: AntisocialAerialist, Celeste Leizer, Jessie Byrnes, and many more!
Venue Information:
The Slipper Room
167 Orchard Street
New York, NY, 10002