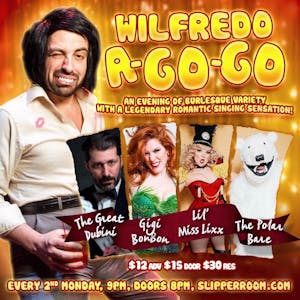 Wilfredo a Go Go!
Wilfredo, The Great Dubini, Gigi Bonbon, Hovey Burgess, Lil' Miss Lixx
$15.00 - $30.00
Sales Ended
Big teeth, tight pants and a voice to die for. Join the celebrated troubadour Wilfredo and guests for this monthly spot at the Slipper Room.
A legendary lover with a sixteen octave range, Wilfredo has toured internationally, from comedy festivals in Edinburgh, Melbourne, Singapore and the Philippines, to the intimate cabaret rooms of London, Prague and Buenos Aires. With a series of albums, a documentary short and a legion of yearning fans behind him, Wilfredo has been described as "nothing short of a feast for the senses". Get your teeth stuck into this feelgood, pasty-poppin', burlesque spectacular.
Gigi Bonbon is the comedic bombshell who is known to seduce the crowd with her dynamic dance moves and a killer smile. She performs regularly at The Slipper Room, Duane Park, Le Scandal, House of Yes, The Box, Employees Only, Hotel Chantelle, and Nurse Bettie. In 2018 she was crowned Miss Coney Island – a role she proudly carried out with great success.
The Great Dubini is the stand-up magician who has charmed audiences from the streets of New York City to the stages of Tokyo. He performs regularly at Ripley's Believe It or Not's Sideshow Wonders, The Love Show NYC, the off-Broadway hit Sleep No More, as well as his own magic and variety show The Mystique Boutique.
Lil' Miss Lixx first came to the attention of New Yorkers in the Off Broadway hit This Is Burlesque. A popular figure on the New York City variety scene, she is a regular at Joe's Pub, Abrons Arts Center, the Slipper Room and in Coney Island's Burlesque at the Beach series. Recently seen in Taylor Mac's 24 Decade History of Popular Music, she is also the co-producer and star of Dumpster Dive, held annually at Coney Island.
Hovey Burgess, the internationally celebrated juggler, clown and circus performer is the recipient of of the Red Skelton Award: Gifted Mentor to Clown Theatre Artists, the Downtown Clown Golden Nose - Lifetime Achievement Award and the Lifetime Achievement Award at the Celebration of American Circus at Lincoln Center. He also created, directed and performed with the Circo Dell'Arte, in addition to a lengthy career teaching circus arts at New York University. He also choreographed and appeared in the Robert Altman's motion picture Popeye, at the request of one of his former students, the late Robin Williams - who starred in the title role for Paramount Pictures in 1980.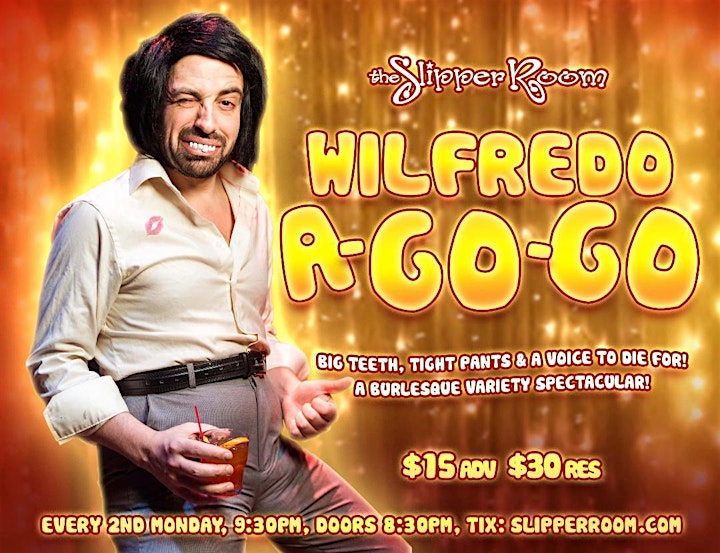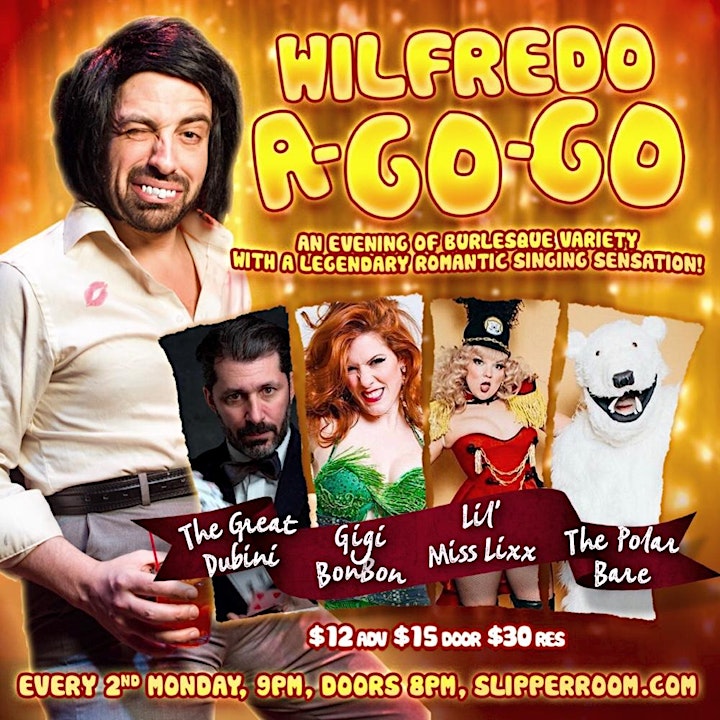 Venue Information:
The Slipper Room
167 Orchard Street
New York, NY, 10002