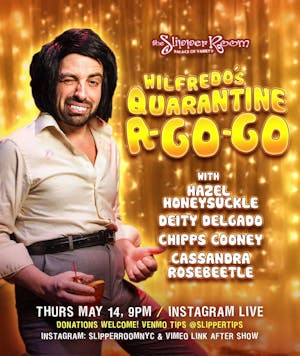 Wilfredo A-Go-Go in Exile
Wilfredo, Hazel Honeysuckle, Cassandra Rosebeetle, Chipps Cooney, Deity Delgado
$0.00 - $100.00
On Slipper Room Video Replay
Wilfredo A-Go-Go is Back in this very special Instagram live show 9pm on the slipperroomnyc Instagram page.
Get ready for love in a lockdown this Thursday night, as Slipper Room lothario Wilfredo warms up his golden voice for a very special edition of Wilfredo a Go Go on Instagram Live — broadcasting from a top secret Manhattan location. With special guests including Deity Delgado, Cassandra Rosebeetle and Chipps Cooney, plus Hazel Honeysuckle streaming live from Las Vegas, it's guaranteed to be cork poppin', pastie twirlin', feelgood fun.
Comment along with this live stream or visit our donation page HERE and watch a high quality screening link after the show.
This show is donation only and your help is very much appriciated in the uncertain times for us.
tip our performers on venmo: @slippertips and consider donating to our Go Fund Me link on our donation page.
Enjoy the Show!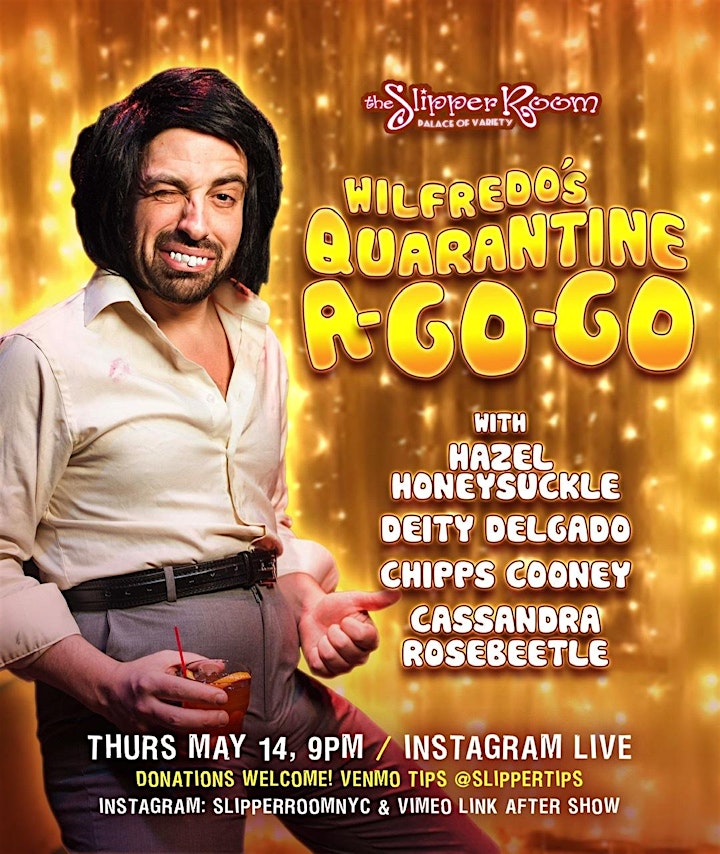 Venue Information:
The Slipper Room
167 Orchard Street
New York, NY, 10002